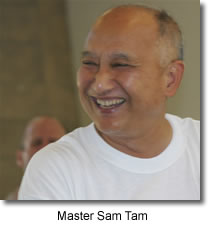 Master Sam Tam comes to Copenhagen from the 2. to 4. of June 2006 to give a workshop at Ole Eskildens Ichuan Standing Meditation School.
Master Sam Tam travels around the US and Canada giving workshops in pushhands in Ichuan and Taiji. Ichuan people would properly know Sam Tam by name from Jan Diepersloot's book "The Tao of Yiquan". Master Sam Tam is a senior student of eagle claw grandmaster Lau Fat Mang and studied Ichuan with Master Han Hsing Yuen in Hong Kong.
Internal Martial Arts Association for Health and Enlightenment
http://www.imaahe.com/
Ichuan Standing Meditation School
http://www.ichuan.dk/
Workshop
Ole Eskildsen
Vanløse Kulturhus
Frode Jakobsens Pl. 4, 1. 2720 Vanløse
DENMARK
( Next to Vanløse Station by Metro or S-Train )
The workshop starts friday 2. June 2006 at 5 p.m.
Price: app. € 300
Participation: Work Shop is full.